---
16th February 2018 Little Miss Country Band
Little Miss Country Band has performed at Festivals, Music Clubs, RSL's, Open Mic Nights, Nursing Homes, Over 55's villages and private functions and had live performance/interview sessions on radio stations and been featured in TV festival Ads/news pieces. LMC also performed in the Australian Songwriters Showcase concert in Tamworth, January 2010.
Her repertoire includes anything from both Old and New Country, to Sing-A-Longs, to Folk and plays guitar and sing both my original songs and covers.
The band consists of Jan Dandridge, Reid Stevens, Ann Billinghurst and Brett Dellavedova.

Cathy Dobson
Cathy Dobson is a multi-award winning songwriter, who has won awards in Tamworth, Canberra, the Peninsula and the ASA, to name a few. She is a local, living in Narre Warren South.
Cathy's songwriting is growing in popularity, with songs written from the point of view and experiences of a retired school teacher, mother, wife, friend.
2015 was a highlight with 8 of her songs featured at the Melbourne Fringe Festival in a play called "Dolly" by Harris Smart.
In 2016 Cathy was niminated for Songwriting Excellence by the Australian Songwriters Asscociation.
Members Draw went to Des
Rat Award went to Jim
---
21st January 2018
Members Lunch. You needed to book in to attend this function. A joyous afternoon of Food Friends and music.
---
15th December 2017
What a great open mic night. The Christmas edition with the impromptu band leading the sing a long had every one doing it . Lots of fun and a great way to end 2017.

---
17th November 2017 Jenny Taylor

Jenny Taylor has a 30 year career as a teacher performer writer and community artist. She has worked for ABC TV and her songs have been performed by massed choirs and played on Melbourne community radio and ABC regional radio. She has worked with numerous choirs including 3 years as co-founder of the choir that was "Choir of Hard Knocks".
​And she paints pictures. loves gardening, the Australian bush. and old growth forests. She dislikes Coal Seam Gas Mining, and coal mining generally. She holds a BA (Music) and Dip Ed.​​
And
Eddie Cole
'Introducing the Eddie Cole Songbook' is a four track EP from Victorian singer songwriter
and guitarist Eddie Cole released in October 2017.
Swept Away' is the opening track. A rocking 6/8 piece which has overtones of Jeff Buckley, it pulses with the with the joy and sorrow which life unceasingly throws at us.
'Count the Cost' is a heart breaker about the shattering of love's illusion.
'Wild is the wind' is a sparse vocal guitar track with Wuthering Heights as it's underlying theme.
'Settle your Debt' is a pulsing blues riff on the theme of everything having a cost and everything requiring recompence.
'Introducing the Eddie Cole Songbook', as the title suggests, it is an entry point to a larger body of work, ranging from 2010's ABC Radio National album of the week 'Groove Eddy Overload' to last years 'The Yellingbo Recordings'.
A great night
Members Draw went to Ken.
Rat Award went to Chantelle.
---
20th October 2017 Devil Goat Family String Band
are a five piece band who play high-energy bluegrass and fiddle tunes like they've never gone out of style. Their contemporary arrangements of traditional tunes utilize the twin fiddles of Kate Conner and Sophia Dunn, banjo of Gus Macmillan, Guitar of Luke Byrnes and Double Bass of Fran Evans. They traverse the old timey and new-grass traditions, and generate a live energy that is truly infectious to music-lovers of all generations.
A great night of entertainment with a good crowd too.
Members Draw went to Ann
Rat Award went to Sally and Greta
---
October 2017 Seniors Festival
Badfolk put on a performance for the Seniors Festival. This was a free event supported by Casey Council.
Friday 13th Lynbrook Communitty Centre, 2 Harris Street, Lynbrook VIC 3976. 7 – 9pm
Small crowd enjoyed a top night.
---
24th September Doveton Show
Badfolk supplied sound and performance on the main stage at the Doveton Show.
Myuna Farm, Kidds Road, Doveton.
A great family fun day.

---
15th September 2017 Grandsons of the Pioneers
Having all come from a background of playing in bands for a combined total of about 160 years, the "Grandsons" came together initially to have a social pick together on weekends, enjoying playing and singing songs with a lean towards "Country", and in particular, traditional Western Cowboy music.
They eventually built up a repertoire of songs which featured four part harmony vocals accompanied by acoustic guitars.
Leo suggested recording the songs in his home studio which resulted in the production of their CD.
So sit back, relax, go back in time and enjoy the harmonious singing and picking of " The Grandsons Of The Pioneers " on their debut album " Happy Trails "……… and live on stage.
The Grandsons of the Pioneers are………..
John Tippett, acoustic bass and vocals
Bill Jeffrey, acoustic guitar and vocals
Con Anag, nylon string guitar and vocals
Leo Dalton, acoustic guitar and vocals
Members Draw went to Pat
Rat Award went to Debra
---
18th August 2017 Ian Bland Duo
Melbourne singer/ songwriter and poet Ian Bland has gained a loyal following over the past decade for 'Bland on Bland', a weekly segment on 3RRR's 'The JVG Radio Method', penning and presenting a poem every Sunday afternoon.
He has spruiked his verse in concert halls, ballrooms, The National Gallery, coal vaults, festivals at home and the UK, pubs, cemeteries – even the steps of Parliament.
Musically, he has performed with fiddle/mandolin player Greg Hunt for more than twenty years, as a duo and with The Lamington Drive Orchestra, blending a diverse range of musical influences with insightful stories drawn from rural and urban Australia and beyond; topics as diverse as drought and the demise of suburban pubs.
Bland has released three solo albums, 'Drifter', 'Angel In Reverse' and 'Everything and Nothing' in addition to a book of verse titled 'Bland on Bland' published in 2016.
"This is music that sits on your aural palette like a deep red wine, warming your soul and inspiring reflection in the listener" Jarrod Watt – ABC Radio
"Bland's gnarled, world weary voice is unaffected, emotive and genuine, a true voice of Australia. He's Jack Thompson in 'Sunday Too Far Away' and Bill Hunter in 'Newsfront'; he is also essential listening." Trevor J. Leedon – Rhythms Magazine
Members Draw went to John
Rat Award went to Sam
---
21st July 2017 Tidal Moon
Barbara Jeffrey and Jose Garcia – celtic, folk, contemporary, original and more… Barbara's voice soars like a bird with clarity and awe-inspiring beauty. Her harp playing is all encompassing – delicate, bold, key changing mid-song, transporting us to ethereal heights.
Jose's full baritone voice and harmonies compliment Barbara's voice just perfectly with the strength to stand alone, with depth and passion. A delightful guitarist, his playing on bodhran and harmonica join with Barbara's flute to give a well-rounded treat including songs in five different languages.
Their performance of mainly unique original songs with transporting lyrics, including just a few traditional songs delivered with distinctly original style. We are very glad to have Barbara's CD to continue listening to their music and look forward to the launch of their forthcoming duo CD.
Don't miss them if you get the opportunity – Tidal Moon performing "with the ebb and flow of the tide."
Review from Singing Gallery SA.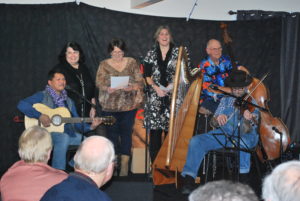 Members Draw went to Ray
Rat Award went to Jane
Special note: Thank you to In Harmony and Blue Tango for their support spots. Another very special night all round.
A photo of the Moonettes or Moonies or Lunar Seas (some suggested names) – an impromptu group on the night.
---
25th June Members Lunch 12.00 – 5.00pm
A Sunday afternoon to kick back and fraternize with friends with an open stage format.
Love these days. Informal, friendly and entertaining.
---
16th June 2017 Fred Smith
"Fred Smith is an exceptional songwriter and certainly the equal of Bogle, Walker and Schumann…the most interesting folk musician working in Australia. In tune with the times and prepared to reach beyond predictable folk formats, he is endlessly innovative and creative. He is also very funny" Bruce Elder, Sydney Morning Herald.
"His CD was good, but his live performance blew me away." Rich Warren, WFMT Chicago.
"The man is an outstanding writer" David Francey, Facebook, 11 January 2015.
"Fred Smith is one of this country's most literate, humorous, intelligent and empathic songwriters." Warwick McFadyen , the Sunday Age.

In 2008, Sydney Morning Herald critic Bruce Elder wrote "It is about time Australia caught up with Fred Smith. This remarkable singer-songwriter – who at various times reveals influences that range from Paul Kelly via Lou Reed to Loudon Wainwright III to Leonard Cohen – keeps releasing amazingly accomplished albums." Fred Smith has been a favorite on the Australian festival circuit for years, much loved for his gentle wit, gift for story and melody, and sublime collaborations with Liz Frencham and The Spooky Men's Chorale. Now the rest of Australia is catching up with Fred Smith. He was the subject of a recent Australian Story feature about his work in Afghanistan and on peace keeping operations in the war-torn islands of the South Pacific. The title track from his acclaimed album, Dust of Uruzgan, has been covered by country music star Lee Kernaghan. Fred recently wrote a book, The Dust of Uruzgan, published by Allen and Unwin and available in all good bookstores.
A moving performance both entertaining and informative with AV to back it up.
Members Draw went to Peter
Rat Award went to Greta
---
Sunday 28th May Badfolk was at the ANZBG event at Wilson Botanical Gardens in Berwick. The event was from 10 am to 2pm
ABout BGANZ – The Botanic Gardens Australia and New Zealand Inc (BGANZ) is the chief body representing the interests of botanic gardens in Australia and New Zealand.
BGANZ promotes the interests and activities of Australian and New Zealand botanic gardens and botanic gardens generally and enhances the state of botanic gardens for the benefit of the community.
Thanks to the team who were there. From the Organisers
On behalf of the City of Casey and Wilson Botanic Park Staff, we wanted to take the opportunity to thank Bad Folk for assisting with the Botanic Gardens Open Day on Sunday 28thMay. Your presence was key to the success of the event and also a great benefit to the community and to Wilson Botanic Park.
The open day was a great opportunity to share, inspire and celebrate many aspects of what Wilson Botanic has to offer.
On the day, those who attended had an overwhelmingly positive experience. We hope all of our visitors were much richer for the experience.
Once again, we wish to sincerely thank you for your assistance on the day.
Kindest regards,
Wilson Botanic Park Berwick
City of Casey | Princes Highway, Berwick Vic 3806
————————————————————————————————————————
19th May 2017 Folkus
Folkus have been performing around Melbourne and country districts since 2006, sharing their passion for Australian & Irish songs & tunes with a touch of contemporary folk.
Neil & Mary-Anne have regularly performed at Polly Woodside, Newport Folk Festival and many local and rural community events. Folkus often perform at 'nautical' events, such as the Williamstown Tall Ships Festival, Geelong Wooden Boat Festival and the Alma Doepel Anniversary celebrations. Folkus also combine with other musicians to form the Bush Band 'Barking Mad', with Neil calling the dances.
Support Act
In Harmony
Pat Wakefield And Sue Parrish play an eclectic mix of melodic music covers with an emphasis on vocal harmony. Song choice is from the work of poetic writers the likes of Gordon Lightfoot, Leonard Cohen, Kris Kristofferson with some Irish thrown in. Pat And Sue played together for about five years some time ago doing pubs, clubs, and functions. Now playing together again they have drifted to their love of the ballad and folk genre where they both started their music years ago. Sue Parrish, vocals,flute, recorder, tin whistle, and guitar. Pat Wakefield, vocals and guitar.
Members Draw went to Marlene
Rat Award went to Steve
A great night of traditional music.
---
21st April 2017 Miss Whisky

MISS WHISKEY is a Melbourne blues duo putting their raw and original stamp on harmonica driven swamp blues.
Formed in 2014 as an avenue to focus on the music they love this female blues duo are quickly making their mark on the blues scene in Australia. As the 2015 Melbourne Blues Appreciation Society Blues Duo of the year, Miss Whiskey performed in Memphis Tennessee representing Melbourne at the International Blues Challenge in January 2016.
Miss Whiskey released their independent debut album in 2016. Recorded outdoors on a cold Melbourne night in the winter of 2015, 'ONE COLD NIGHT' captures the raw energy found at a MISS WHISKEY gig and showcases this gritty female duo's harmonica-driven style of swamp blues. Debuting at No: 3 on the Australian Blues and Roots Airplay Charts March 2016.
Anna Scionti– Vocals, guitar, slide and stomp
Julie Noble– Harmonica
Members Draw went to Denise
The Rat Award went to Sim
---

17th March 2017 Scott Cook
A roots balladeer with a rare personal warmth, Canada's Scott Cook has distilled the stories collected over a decade of near-incessant touring across Canada, the USA, Europe, Asia, and Australia into straight-talking, keenly observant verse. His fourth release, One More Time Around, was nominated for a Canadian Folk Music Award, and its opening track "Pass It Along" won the Folk and Acoustic category in the 2013 UK Songwriting Contest, with UK magazine Maverick Country naming him "one of Canada's most inspiring and imaginative storytellers".
Scott is a great entertainer and story teller. Truly entertaining and the man can dance too.
Members Draw went to Bill
The Rat Award went to Reid.
---
17th February 2017 Saoirse
Saoirse (Gaelic word for freedom) are a vibrant vocal and dance group from Melbourne. Saoirse delight their audiences with their beautiful renditions of traditional Irish ballads and original works, they will join hands to offer some spirited jigs and reels to get your feet tapping.
Saoirse have performed at some great festivals including the Port Fairy Folk Festival, Brunswick Music Festival, the National Folk Festival, and many other music venues throughout Australia.
Saoirse currently have three albums, "Singin' in the Scullery", 2007, "Candlelight Sessions", 2009 and the multi-award winning 2013 release, "Music Evermore".e".
Anthony O'Neill on guitar, fiddle and vocals
Bernadette O'Neill on bodhran and vocals
Kerry McManus on accordion, whistle and vocals
Truly professional entertainers with talent and great harmonies.
Spot acts were especially talented too.
Members Draw went to Bill
---
January 2017 Club BBQ
Where did that year go? Time to start a new one.
Casual, friendly get together with friends, music and food. What more could you want?
---